The Dohmen Company Foundation is excited to announce that it is moving its Milwaukee-based headquarters from the Third Ward to Halyard Park on King Drive and is relocating food production from Chicago to the Brown Street property.
We look forward to joining this vibrant neighborhood and to connect with the community and residents.
The Dohmen Company Foundation recently held a Meet & Greet to engage with our neighbors and partner organizations, share our plans, and answer questions about our upcoming move to the Halyard Park neighborhood in 2022. If you were unable to attend, you can view the video here anytime that works best for you.
Why are we moving?
We were seeking a historic building to reflect our 160+ year commitment to Milwaukee. The King Drive and Brown Street properties together are the ideal spaces.
The engaged community and entrepreneurial energy that exists on King Drive was a big draw for us. As we looked for the perfect location for our headquarters and food production facility, Halyard Park truly feels like the perfect home. We look forward to learning more and leaning in as a new neighbor and community partner.
How many buildings will Dohmen occupy?
We purchased two buildings and a parking lot: 2007 N. Dr. Martin Luther Jr. Dr. and 334 W. Brown St. Together, they create a campus focused on realizing our vision of improving community health through the power of prevention.
King Drive will serve as the Foundation's organizational headquarters housing operations for our social business(s) and will include programming space for the Food For Health Program. A demonstration kitchen will be on the 1st floor for internal programming and will be available for other organizations and community events.
Brown Street will be converted to a food production facility to support meal production for our operations.
When will construction begin, and end?
Community engagement, zoning permissions, detailed design and reconstruction/construction of the buildings are currently underway, with the goal of the completing construction by the end of summer 2022.
Fast facts:
Total of about 45 employees

30-35 relocating
Up to 25 new jobs to be added in the next few years - mainly in kitchen operations

Target completion & full move date
New Campus Rendering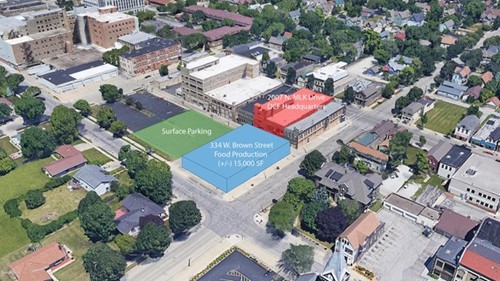 Red Property:
2007 N. Martin Luther King Dr.
Future Home: New Foundation HQ,
Programming & Community Event Space
Blue Property:
334 W. Brown St.
Future Home: Food production facility
to support operations
Green Property:
Future Home: Parking lot for employees
and guests
Please revisit this page for future updates. If you have feedback or questions, please email Rroller@dohmen.com.